Why is the duct cleaning business booming?
DUCT CLEANING is a service needed by today's homeowner. Studies show that within the closed environment of the modern energy efficient home or office, the air inside can easily become more polluted than the air outside. Prime causes are dust, contaminants, and airborne bacteria re-circulating through soiled furnace and air conditioning ducts. Your customers know that these ducts must be cleaned annually to ensure a fresh, healthy home environment.
Now, because you already have a truckmount or portable carpet cleaning unit, you can benefit from an established customer base, and earn thousands of extra dollars in profit with only a small investment. With the Cleanco I.A.Q. System you can offer the most thorough duct cleaning service available today, and for years to come.
The Cleanco process is most effective and easy to sell
THE CLEANCO DUCT CLEANING PROCESS is a unique dual action system. The ducting is simultaneously brushed and vacuumed along its available length. As the tight fitting vacuum brushes are pushed along the ducting dislodging the encrusted dirt from the walls, you can hear the powerful vacuum whisking it away. The sound alone indicates the thoroughness of the system, and is very convincing to the customer. Other methods which simply blow air down the ducts, or vacuum alone, can't match the effectiveness of the Cleanco process.
This system is as practical as it is hard working. There is minimal clean-up, no dust clouds, and no filters or ongoing equipment replacement from job to job.
Quality designed and manufactured for lasting service
THE CLEANCO I.A.Q. SYSTEM is made to give a lasting service. The sturdy synthetic bristles of the rectangular brushes are firmly set into tough polymer plates. The bristles of the round brushes are attached to precision machined aluminum vacuum heads. The universal adapter also is made from strong machined aluminum. Even with continual use, you can expect trouble-free performance.
Turbo Spinner
Powerful Enough to Polish!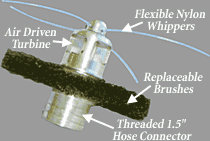 Leave ducts more than just clean...the powerful scouring action of the Cleanco IAQ Turbo Spinner quickly removes debris and pollutants from the wall of any round duck
Its nylon whippers are attached to a new turbine-like core that is driven by vacuum pressure. The spinning fibers work with the fixed brushes to scour the duct wall.
TAKE YOUR DUCT CLEANING
BUSINESS TO THE NEXT LEVEL!

The Turbo Spinner comes standard with the 1800 or can be purchased by itself.