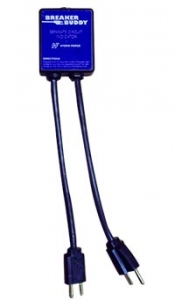 Hydro-Force Breaker Buddy
Breaker Buddy is a unique device that allows you to check to see if you are on two separate circuits, helps avoid tripping breakers and blowing out fuses when using more than one electrical cord.
Plug the Breaker Buddy in to two separate outlets and if the green light comes on you are on separate circuits. Helps avoid tripping breakers on dual cord machines or when using accessories like an (RX-20) or separate electric heater.