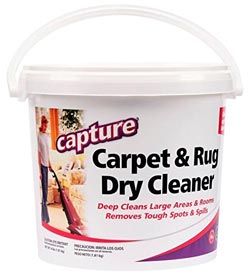 Capture Carpet Dry Cleaner Powder
Resolve Allergens, Stains, Smells, Moisture from Rugs, Furniture, Clothes and Fabric, Mold, Pet Stains and Offensive Smoke Odours
Capture Carpet & Rug Dry Cleaner removes stains, smells and eliminate moisture that contributes to growth of bacteria, mold, allergies, dust mites. FOR ALLERGY RELIEF Use Every 8 Weeks
Prolong life of carpet and fabrics. Combine with Capture Pre-Mist for very difficult stains spots and spills. Remover of dirt, odors and allergens from pets, dogs, cats and moisture
Safe for all types of carpets, fabric, silk, surfaces and material. Spots will not reappear. Re-sealable lid, easy storage container.
Absorbent deep cleaning powder: Wet cleaners add moisture to your carpets, rugs, upholstery, furniture, sofa, couch to create the ideal environment for mold, allergens and bacteria to grow. Capture Dry Powder Cleaner removes the moisture, making it difficult for these unwanted growths to live.
Product Description:
Sold as a 4 pound pail, cleans approximately 400sf. Capture Carpet Rug Dry Cleaner is composed of thousands of tiny particles that look and act like super sponges to absorb dirt, spills, and even allergens. It is safe on all types of fibers and fabrics, and it's approved for use on all stain resistant carpets. It is even safe for use on wool rugs. You get professional carpet cleaning results without the high costs.
Once the Capture powder absorbs a stain particle, it won't let it go. That means you don't have to worry about tracking dirt and odors from one area to another while you're using Capture carpet cleaner. You can use your rooms and hallways while you clean. Just vacuum up the powder when you're done. Absorbent deep cleaning powder. Remover of dirt, odors and allergens. Eliminates moisture that contributes to growth of bacteria, mold and allergens. Eliminates re-soil and prolongs carpet life. Proven effective in reducing allergens. Safe in home with kids and pets. Safe for use with all vacuums. Resealable pail for easy storage.
Frequently Asked Questions:
Is Capture easy to use?
Yes! Just sprinkle, brush and vacuum your way to clean, fresh carpets.
Can I use Capture on my wool rugs?
Capture is safe to use on both wool and synthetic fiber carpets and rugs.
I have children and pets living in my home. Is Capture safe?
Yes, it's safe to use in homes with children and pets. Unlike other cleaners, Capture doesn't contain any bleach, solvents or other harsh chemicals.
Will Capture work on pet stains?
Capture works great on tough pet stains and odours. It even works on older, set-in stains.
Is Capture safe for my vacuum cleaner?
Absolutely! Capture works with your vacuum cleaner to remove surface dirt, grime and stains. Capture also reduces allergens dramatically – 70% more than vacuuming alone.
Where else can I use Capture?
Use in on car interiors, upholstery and pet beds.
Capture safely and effectively removes:
Chocolate, Clay, Coffee, Cola, Cough Syrup, Crayons, Dirt, Food, Fruit Juice, Grease, Ink, Makeup, Mascara, Mildew, Mud, Oil, Pet Stains, Pollen, Shoe Polish, Tea, Vomit, Wine.