Centaur Woodpecker – Dustless Floor Sander
This single speed machine which was created for the purpose of sanding (screening) wood floors, carries a removable 40 lb. extra weight. The machine can be employed to remove old floor finish from parquet or other types of wood floors. The Woodpecker is ideal for property managers for cleanups after the tenant has moved out or for refinish the gymnasium's floor in schools.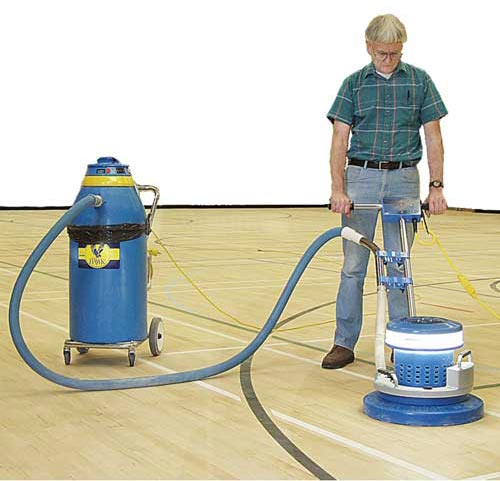 The ever-practical splash guard, when lowered, becomes a dust guard and it will prevent the dust from escaping while the vacuum port connected to a vacuum cleaner will pick up the fine dust. Similar to the other Rabbit machines, this unit has a removable cable, removable handle, double strain reliever, indicator light to show available current and indicator light to show brush wear.
The two (2) fluorescent bulbs will give ample illumination during work at night even if there is no light in the room. Because there is no readily available information as to whether or not the old urethane or the old varnish is carcinogenic, we suggest using a vacuum which is equipped with a HEPA filter.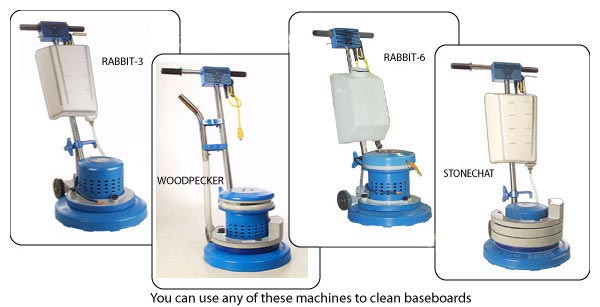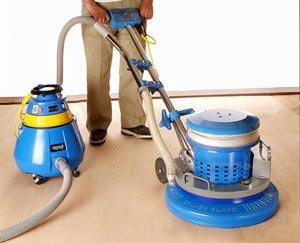 Excellent for gymnasium and class room floors.

Baseboard cleaner
By adding a water tank, it can clean baseboards at an unparalleled rate.

Two size of floor in one
By removing the splash guard and adding a small size block or brush, it becomes a 13″ model.

Grout cleaner
By removing the splash guard and adding the "smart weight" and a Tynex brush, it is and excellent grout cleaner.

Floor sander/finisher
Connected to the Silento vacuum cleaner, it can finish or sand wood floor without leaving any dust in the air or on the floor.

Floor stripper
With the splash guard in down position and the "smart weight" on, it is remarkable floor stripper.