Protective Shoe Covers, Booties
"A Professional & Courteous Product"
Protect Carpets and Flooring with Protective Booties
"Footwear Covers" is a product which is ultra-practical making it easy to enter your home without taking off your boots or shoes.
Instead of undoing your boots to enter your home for just a few minutes, it's much easier to slip on "Footwear Covers" to save time while protecting your floors and carpets. Reap the benefits of no static and no dirt transferring with you from the sterile environment to or from the outside.
They are very soft but very strong! The soles are non-skid therefore there are no worries of slipping on any surface.
"Footwear Covers" are made in all sizes such as Small, Medium, Large and Extra-Large and come in grey, navy or black.
Therefore for the home, business, the boat, the RV…nothing is better than "Footwear Covers"!
"Walk Anywhere, No Hassle with Protective Shoe Covers"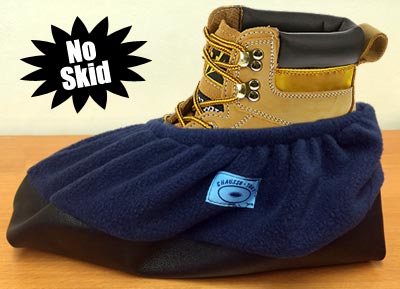 Made in Canada