The Ultimate Cordless, High Torque, Lightweight, Cleaning Machine
MotorScrubber

is a powerful lightweight, 12-Volt battery powered cleaning brush for reliable cleaning of floors, carpets, walls, painted surfaces, boats, swimming pools, recreational vehicles, decks, concrete, or any hard to reach area.
Designed for safe reliable use, the MotorScrubber quickly and effortlessly cleans your restrooms, shower rooms, locker rooms, windows, stairwells, pools and motor vehicles. The MotorScrubber operates off a 12-volt DC battery, which is safe for use around water. It provides up to 4 hours of use and recharges in 10 to 12.5 hours. The MotorScrubber allows you to scrub and polish where there is no electric outlet available. The MotorScrubber weighs less than 4½ lbs, while the battery pack is 7 lbs.
By adding optional discs, pads and floor scrubber attachments, you can turn any of our power brushes into a cordless abrasive scrubber, a floor buffer, wet-duty floor scrubbers, or a baseboard cleaner. Boat cleaning equipment.
Motor Scrubber is used by numerous industrial cleaning services across the nation, including commercial, industrial, residential cleaning, window cleaning, aviation cleaning, pool cleaning maintenance, and janitorial/sanitation services etc.,
About the MS2000
Manual scrubbing is tiring and exhaustive work, especially in confined and hard to reach areas, never producing the results you want or more importantly need. Short deadlines are also common place in the cleaning industry meaning you need results fast.
Introducing MS2000 the specialist battery operated deep scrubbing machine perfect for bathrooms, shower areas, around toilets, swimming pools, stairs, walls, base / skirting boards. Its also ideal for polishing marble, mirrors and stainless steel.
The comfortable, all day wear back pack, delivers high torque power to the 18cm / 7″ scrubbing head releasing dirt from deep down while you simply clear away dirty residue leaving surfaces clean and fresh.
With our large range of brushes and pads you're sure to achieve outstanding cleaning results on any surface.

Hand Held MotorScrubber with 48 inch Handle
MS2000
Extends up to 4 feet.
MotorScrubber includes:
12V DC MotorScrubber 30-48″ Handle, With Housing, Battery Charger, Charging Cord, New Back Pack Harness, Pad Holder, 3 Pads (Red, Green, White), New Microfibre Pad, and 1 Medium Duty Brush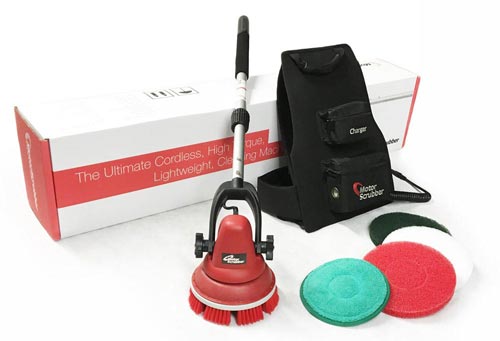 MotorScrubber Baseboard Brush
MS2000
Turn your MotorScrubber into a powerful, portable baseboard, stair and riser scrubbing machine!
The baseboard brush attachment gives you an automatic floor scrubber power brush that allows you to scrub baseboards, floors and even those hard to clean corners and edges all in one easy operation.
Our Baseboard Brush "twist-locks" easily and securely to the MotorScrubber like all other accessory brushes, giving you 8.5 inches of heavy-duty bristles for baseboard coverage. It is fully immersible in water and all floor cleaning chemicals. Excellent for schools, gyms, public buildings and pools. Cleans floors, steps and baseboards better and faster than a mop & bucket and at cost far less than the big floor-scrubbing machines.

MotorScrubber Testimonials
San Francisco International Airport
The airport has two and a half million square feet of terrazzo in the International Terminal that is constantly being left with scuff marks by luggage and foot traffic. The cleaning crews carry MotorScrubber units with them and eliminate the scuff marks in seconds. Previously, they had to clean these areas by hand. The floor is kept gleaming and they have saved hours of labor.
Lodi, California School District
The MotorScrubber is being used throughout the school district. It has allowed the cleaning crews to maintain the stairs to highest quality of cleanliness and in the restrooms they find it has cut hours of cleaning labor on the walls and around the urinals and commodes.
David Harrison Marketing, Inc.:
When doing custodial work, automation is always better than manual labor. Using the MotorScrubber eliminates almost all the manual labor aspects of the job. For the undesirable cleaning jobs like the urinals and toilet bowls, the MotorScrubber makes the job easier and cleaner. For the small areas, the MotorScrubber is ideal as an alternative to a mop or a scrub brush. When it come to doing the baseboards, the MotorScrubber takes the place of the "doodle bug" and makes the job quicker, more effective with none of the back breaking hand scrubbing. The MotorScrubber is the best all around tool for all those jobs where manual labor is normally used.
Why MotorScrubber?
Features of the MotorScrubber to Benefit YOU, the consumer:
MotorScrubber 12-Volt DC Powered:
Allows you to use scrubbers in hard-to-reach places where 110-volt is not available
Eliminates the fear of electrocution associated with 110-volt power scrubbers and water
Telescoping Twist-Lock Handle:
Power brush provides over 12 foot reach for the average height person.

Twist-Lock handle telescopes to any height you desire between 4¾ & 6¾ feet.
No need to use a ladder, eliminates potential injury associated with ladders.
Battery Operated:
MotorScrubber Battery Pack for convenience and mobility needed to accomplish any cleaning task.
Power Brush battery is Rechargeable!
70 Degree Pivoting Scrubber Head Attachments:
Scrubber Attachments follow the contours of whatever you may be cleaning.
Eliminates the need to use "elbow grease" and scrub, makes cleaning nearly effortless!
Interchangeable Scrubber Head Attachments:
Wide range of available interchangeable scrubbing pads and discs
Adaptable for use for all your major cleaning chores.
All discs are reusable and replaceable for economy and long-life.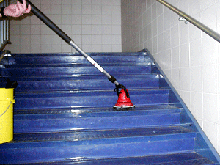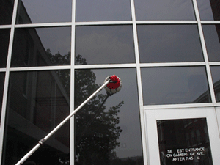 Make tall window cleaning & stairwell cleaning easy with MotorScrubber. The MotorScrubber is a power scrubber that cleans just about anything. Cleans Restrooms, Toilets, Locker Rooms, Floors, Windows, Stairwells, Boats, Pools, Vehicles, & more. Great industrial scrubber for janitorial use.
Make tall window cleaning & stairwell cleaning easy with MotorScrubber. The MotorScrubber is a power scrubber that cleans just about anything. Cleans Restrooms, Toilets, Locker Rooms, Floors, Windows, Stairwells, Boats, Pools, Vehicles, & more. Great industrial scrubber for janitorial use.
Cleaning atriums and greenhouses is no longer the back-breaking, hard-to-reach chore it use to be.
Now you no longer have to find the carwash with the big bay. You can use the motorscrubber to clean your Recreational Vehicle anywhere.
Cleaning narrow stairwells and scrubbing hard to reach area of floors is made quick and easy with the MotorScrubber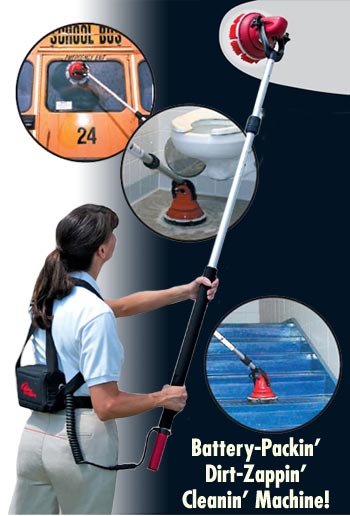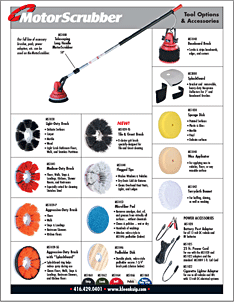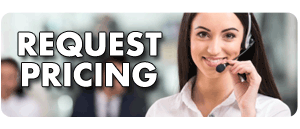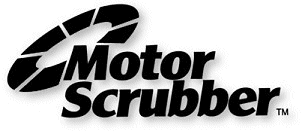 | | |
| --- | --- |
| Battery | 12 Volt, 7Ah Sealed Lead acid |
| Run Time | 4 Hours |
| Charging Time | 8 Hours |
| Scrubbing Width | 18cm |
| Performance | 120mSq/hr |
| Linear Performance | 666m/hr |
| Brush Pressure | 5kg = 19.7g/cmSqP |
| Brush RPM | 354 RPM |
| Motor Torque & Power | 11.18kg/cm |
| Machine Weight | 2.5kg |
| Back Pack Weight | 3.5kg |
| Dimensions (MS2000M) | W170 x H150 x L1120mm |
| Warranty | 12 Months |