No Skidding Industrial Strength Anti Slip Floor Treatment
Slips and falls on wet, dry or greasy surfaces are a major problem for industry, institutions, commercial establishments and residences. No Skidding® products help solve these costly problems.
No Skidding Anti Slip Floor Treatment works by creating an "Invisible Tread" on floors, which significantly increases the co-efficient of friction and reduces the problem of dangerous when wet surfaces. The treatment works on most natural, unsealed mineral floors. The treatment will last up to five years with one application. It may be used indoors and outdoors. The wetter the floor, the more effective the slip resistance.

Effective on all natural surfaces such as ceramic, granite, terrazzo, quarry tile, concrete, slate, porcelain tile and tubs, etc.
Slippery floors in buildings frequented by the public expose you to litigation for injuries and damages. Slip/Fall injuries are the leading cause of liability payments after auto collisions. Hard floors are made to be durable not slip resistant and rapidly lose traction when wet.
Industrial Anti-Slip Treatment for Natural Stone or Hard Tile Indoor & Outdoor
#90378 is ready to use. Quick and easy to apply after testing. Simply clean floor, pour Treatment into a pail and apply. Keep surface damp for the recommended time, then rinse away. There is no curing period; the area may be used immediately after application. One gallon will treat over 400 sq. ft. The treatment is not affected by chlorine, acids, or alkalis. Very cost effective. Complies with co-efficient of friction requirements for ASTM, OSHA, ADA, Canadian and U.S. Government industrial safety standards. Approved by Agri-Foods Canada for use in the food industry. Always follow directions on product label, read MSDS and use tools recommended before proceeding. Please Note: This product cannot totally eliminate the possibility of slipping."
Anti-Slip Treatment for Porcelain Tile
No Skidding® Porcelain Treatment is a water based, low odor, colorless liquid. It is not a coating that can wear and that requires repeated re-application. Formulated to be a quick, easy application on porcelain tile floors. It is simply mopped onto the clean floor using a lambswool applicator. The floor is kept wet with the Treatment, usually for 10 minutes, and then rinsed away with clean, cold water. This simple process will increase the coefficient of friction and will typically be effec-tive for up to 5 years with the one application. The floor can be put back into use immediately. There is no cure time as with coatings.
This process was used at the Hong Kong International Airport in June 1998 on the tile in the passenger concourse, which receives approx. 85 million passengers annually.

World-Wide Usage
No Skidding Anti Slip Treatment is in use in over 40 countries in mass transit, airports, health care, food processing, most North American hotel chains, military installations, governments, restaurants, commerce and industry.
No Complicated Mixing
Supplied ready-to-use! One gallon will treat over 400 sq. ft. Built in grout cleaner draws out ingrained soil in grout lines.
Leading Technology Cleaners
For on-going maintenance, we recommend No Skidding Flexclean or On Guard, a highly concentrated cleaner and degreaser. Both products remove dirt rapidly by breaking the electrostatic bond between the soil and the hard surface. Self-neutralizing. Helps prevent emulsification of grease into a slippery residue on the floor. Removes hard caked-on grease.
Easy Application
Ready-to-Use. Quick and easy to apply. The area may be used immediately after application.
The treatment is not affected by chlorine, acids, or alkalis. Very cost effective, only pennies per square foot. Exceeds co-efficient of friction requirements for ASTM, OSHA, ADA, Canadian and US Government industrial safety standards. Approved by Agri-Foods Canada for use in the food industry. Full directions for use on bottle.
No Skidding Slip Meter

A simple test of the coefficient of friction level of your floors and walkways will provide valuable data about safety levels and ongoing maintenance. There are severe penalties for failure to comply and tax benefits for those businesses taking steps to comply. The absence of knowledge can be the cause of expensive litigation's and high Workman's Compensation Premiums.

Slip & Fall Statistics
On average, 55 people a day DIE as a result of slips/falls.
US Occupational Safety and Health Administration (OSHA) report that slip and falls account for 15% of all accidental deaths, second only to motor vehicle accidents.
The US Bureau of Labor Statistics (BLS) report that more than 200,000 health care workers are injured in slips and falls on walking surfaces in health care facilities annually.
A National Health Survey indicates that 1 person in 5 incurs a home injury requiring medical attention every year. The bulk of these are slip and fall injuries. 28,000 people are killed every year by unintentional home injuries, of these about 11,000 are related to slips and falls.
The National Safety Council reported that in the US 170,000 people are injured in bathtubs and showers and over 800,000 injuries occur on floor surfaces for various reasons each year.
CNA Insurance reports that the average cost to defend a slip and fall lawsuit is more than $50,000 and the averae judgement now exceeds $100,000.
If you look in your local Yellow Pages under lawyers you will see the increasing number of lawyers offering their services on a contingency basis for people who are injured in slip injuries.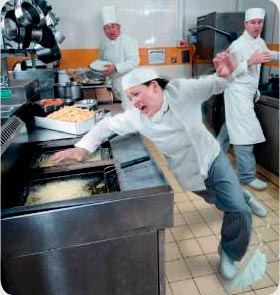 Ideal for Commercial Kitchens
No Skidding is the long lasting solution to the problem of dangerous, slippery when wet hard flooring.
A clear, chemical treatment that increases the coefficient of friction and the safety of the surface when wet.
Helps reduce slip injury.
Easy application and low odour.
Does not noticeably alter the appearance of the surface.
One application lasts for up to 5 years.
The only treatment system in the world available in custom formulations for:
Highly polished porcelain
Regular, most natural stones
Heavy duty concrete floors & similar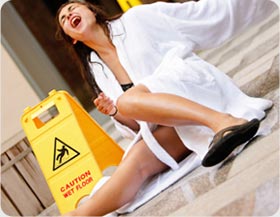 The people at the hotels we have visited are surprised how effective No Skidding is. I am really enthusiastic about the results.
Bacardi Ltd. is happy with the installation of your No Skidding Product. Thank you for all your help.

Certified High Traction by NFSI