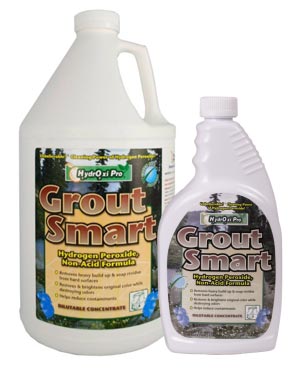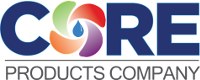 HydrOxi Pro Grout Smart
Powerful cleaner, restorer and maintainer for tile, grout, marble or stone
Won't attack grout | No residue | Non rinsing
HydrOxi Pro Grout Smart is a unique concentrated solution of natural orange oil, hydrogen peroxide and surfactant technology that safely renovates, cleans and maintains hard surfaces.
Restores and brightens tile and grout, brick and natural stone to its original color. Helps reduce contaminates including mold and mildew. Once the surface has been renovated, Grout Smart may be diluted to a light solution for daily cleaning.
Also for use in auto-scrubbers, steamers, pressure sprayers and extraction machines.
'Easily removes heavy build up of soap residues from hard surfaces. Helps reduce contaminates.
'Restores and brightens original color while destroying odors.
Available in 4L or 32 oz. bottles
Multi-Purpose – Powerful Cleaner, degreaser and brightener for difficult surfaces
Non-Toxic – No perfumes, acids, alcohol, amines, ammonia, carcinogens, chlorine bleach, dyes, quats or phosphates
Certified safe, low odor — Green Seal certified; NSF registered; made with hydrogen peroxide, natural orange oil and surfactants
Eco-friendly — extremely low VOCs, biodegradable
Cost-effective — concentrated formula makes multiple gallons, wastes less water, saves time and money
For use in:
Auto-scrubbers, Hot Steamers, Pressure Sprayers, & Carpet Cleaner Extraction Machines
Restorer, maintainer & cleaner for floors including crevices around tile, grout, marble & stone
For use on: Windows, mirrors, walls, all types of floors, toilet bowls, shower rooms, tile & grout & kitchens.
Renovate
Restores and brightens tile & grout, brick, stone and marble to its original color. Helps reduce contaminates with the power of hydrogen peroxide.
Maintain
Once the hard surfaces have been renovated, Grout Smart™ may be diluted to a light solution for daily cleaning. Establishing a maintenance program maximizes chemical use and reduces time in each work station, saving you money.
Clean
Grout Smart™ can also be used as a versatile cleaner/degreaser. The natural orange oil breaks down grease, grime and dirt, while hydrogen peroxide destroys any organic odor that is present. May also be used as a general spray and wipe cleaner for bathroom surfaces, kitchen surfaces, desk-tops and stainless steel.