Viper Tile and Grout Cleaner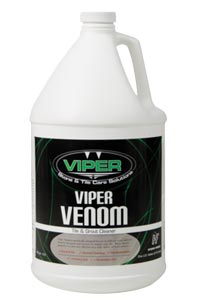 Tile & Grout Cleaner
Viper Venom is used as a pre-treatment spray on grout and tile to loosen and emulsify soils and stains, and to facilitate soil removal using the SX-15 Grout and Tile Tool. Viper Venom is also effective for general floor cleaning and upkeep, wall cleaning, and other general hard surface cleaning. Viper Venom, with its hard-hitting blend of builders, solvents, and surfactants, is also ideally suited for fire restoration.
If you prefer a high alkaline, solvent fortified chemical to deal with heavy soil on hard surfaces…you want Viper Venom!
The industry's #1 selling tile and grout cleaner
Can be used on natural stone for restoration cleaning when rinsed effectively with SX-15 Hard Surface Cleaner
Breaks down and dissolves stubborn, built-up, and caked-on grease and oils
Excellent cleaner for fire and smoke damage cleaning of hard surfaces
Dilution Ratio: 1:1 for tough jobs, more for lighter jobs
Rinse well
Available in: 4 L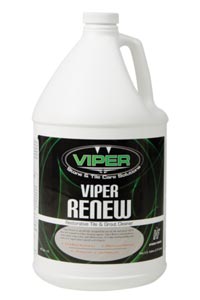 Viper Renew
Use Viper Renew when all other cleaners have failed. It works on the acid side of the pH scale removing soils and stains on grout, tile and stone that have been neglected for years. Viper Renew actually removes a very thin layer of grout, taking with it all hard water deposits, soap scum and efflorescence. The proprietary organic salt in Viper Renew is twice as effective as phosphoric acid at dissolving calcium carbonate, and without the unpleasant fumes. Keep a gallon of Viper Renew on your truck so you'll be prepared for even the most extreme tile and grout cleaning situation.
Remove embedded soil with ease
Twice as effective as ordinary acidic cleaners dissolve and defloculate the most stubborn soiling and grime build-up
pH: 1.0
For use on ceramic tile and grout
Dilute 1 gallon per gallon of water
WARNING: Viper Renew will readily damage marble, limestone, and other acid sensitive materials. DO NOT MIX WITH OTHER CHEMICALS. STORE IN CLOSED ORIGINAL CONTAINER!
Hydro-Force SX-15 Tile and Grout and Hard Surface Cleaning Tool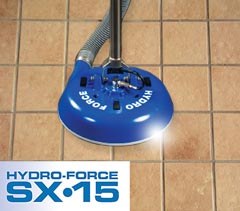 The Hydro-Force SX-15 Tile & Grout Cleaning Head utilizes the latest cleaning technology and is the industry's most advanced hard surface cleaner. The SX-15 makes any hard surface job a breeze. Unique airflow system improves recovery of water and allows the SX-15 to be used with portables or truck mounts.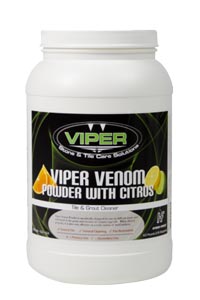 Viper Venom Powder with Citrus
Viper Venom Powder with Citrus is an economical, powdered heavy-duty tile & grout prespray designed to tackle the nastiest soils. This high pH, solvent-fortified pre-spray dissolves greasy restaurant oils and leaves a pleasant citrus smell.
A HOT, ultra concentrated high alkaline prespray.
Economical as it makes up to 25 ready to use gallons per jar for restoration cleaning and about 100 ready to use gallons for maintenance tile & grout cleaning.
Starts to work on contact and uses its blend of solvents, surfactants and alkaline builders to dissolve grease and oil in minutes./li>
Dissolves easily and quickly in around 30 seconds.
Less foamy than typical tile & grout restoration presprays.
Pleasant blend of citrus fragrances (orange, lemon and lime) combined with their natural cleaning strength.
Versatile and effective enough to be used on most hard surfaces at a 1 to 128 dilution which makes about 100 ready to use gallons of a General Purpose Cleaner.
Best results are obtained when mixed with hot water.
Dilution Ratios: 1/2-6 oz./gal. RTU pH: 12-13 Contains: 6.5 p ounds