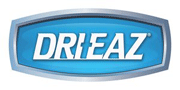 DriEaz Dri-Pod Floor Dryer
Dry carpets and hard surfaces fast!
Enhance evaporation and quickly remove surface moisture with the Dri-Pod! The Dri-Pod pulls warm, dry air from above and directs it down through a louvered grill in a 360° pattern across the entire floor. With airflow up to 10 ft. across, the ultra-portable Dri-Pod is perfect for speed-drying carpet, tile, vinyl or hardwood in smaller spaces.
Dry faster. The Dri-Pod directs air across the floor in all directions accelerate drying.
Save time. Use the Dri-Pod to dry carpets or hard surface floors quickly after cleaning, leaks or spills. Simply place the unit in the area to be dried, and then leave it to work while you move onto the next task.
Dry confined spaces. Use the Dri-Pod in confined spaces like cabinets, closets or bathrooms – it's 15 inches wide so fits almost anywhere.
Move easily. At only 10.6 lbs, the Dri-Pod is very easy to transport. Simply pick it up and carry it!
Product Features:
High velocity airflow enhances evaporation
Unique design directs air uniformly across floor in 360°
Lightweight and highly portable
Stackable housing
Product Documentation Links: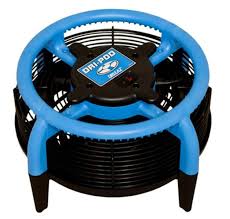 Product Specifications:
Model
F451
Weight
10.6 lbs. | 4.8 kg
Dimensions (H × W × D)
15.2 × 15.2 × 8.9 in.
38.5 × 38.5 × 22.5 cm
CFM
750 cubic ft/min
Amp Draw
1.1 amps
Construction
Injection molded housing, wire grill
Safety
ETL approved to UL and CSA standards