The Esteam E1200: The Ultimate Dual Purpose Hard Surface Cleaning Portable Extractor
Gone are the days of investing in separate cleaning machines for different surfaces. The CSA Approved Esteam E1200 (The Best Tile and Grout Cleaner Machine) has been engineered to cater to all your commercial and residential cleaning needs in one compact and efficient package. With its multi-functional capabilities, you can tackle a wide range of cleaning tasks, making it an indispensable asset for homeowners and professionals alike.
When it comes to maintaining the cleanliness and hygiene of our living and working spaces, investing in the right cleaning equipment is crucial. In today's fast-paced world, portable extractors have become a game-changer in the carpet and floor cleaning industry. Among the top contenders in the market, the Esteam E1200 stands out for its exceptional dual-purpose cleaning capabilities, making it an indispensable tool for hard surface cleaning, tile and grout cleaning, carpet and upholstery cleaning and so much more.
Chapter 1: The Rise of Portable Extractors
Traditional cleaning methods often struggle to deep clean hard surfaces and tile grout effectively. As a result, portable extractors have gained popularity as versatile machines that combine power and portability. These compact portable devices can be easily transported by car, SUV, truck or van to various locations, making the E1200 ideal for both commercial and residential applications.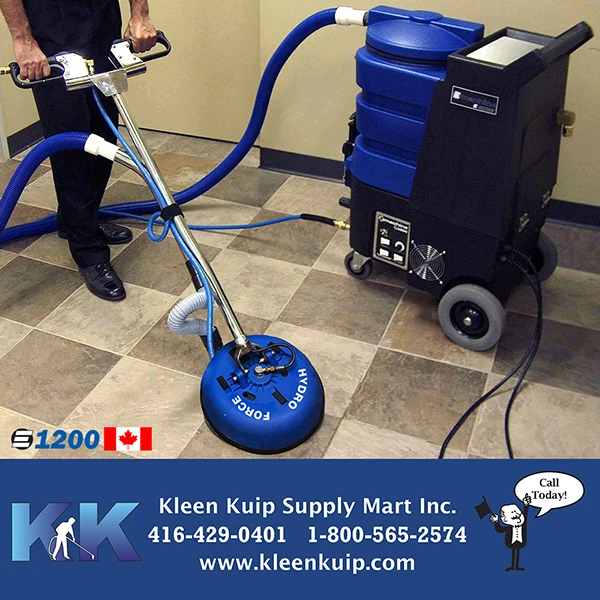 Chapter 2: Unveiling the Esteam E1200
The Esteam E1200 has revolutionized the cleaning industry with its advanced features and unmatched performance. As a dual-purpose hard surface cleaning and tile & grout cleaning portable extractor, it has set new standards for efficiency and versatility.
Power-Packed Performance: The E1200 boasts a powerful vacuum system (Dual 2-Stage Vacuum Motors, 150″ Water Lift) that effectively extracts dirt, grime, and moisture from hard surfaces and porous grout lines. Its high-pressure cleaning capabilities ensure a deep and thorough cleaning process, leaving surfaces sparkling clean.
Portable Design: Weighing 140 pounds and featuring sturdy wheels, the E1200 can be easily manoeuvred around tight corners and transported from one job site to another without any hassle. Its compact design does not compromise on performance and makes it an excellent choice for professionals on the go.
User-Friendly Controls: The E1200 is designed with the user in mind. Intuitive controls (with an adjustable plunger pump up to 1000 psi) allows for easy operation, ensuring that even those new to portable extractors can achieve professional-level cleaning results.
Chapter 3: Versatility Redefined
Hard Surface Cleaning: From concrete floors to hardwood surfaces, the E1200's powerful extraction capabilities and adjustable pressure settings enable it to clean a wide range of hard surfaces with ease. It can remove tough stains, oil spills, and even years of built-up grime, restoring surfaces to their former glory.
Tile and Grout Cleaning: One of the most challenging cleaning tasks is restoring tile and grout to its original pristine condition. The E1200, with its specialized attachments and powerful pressure, effectively agitates and cleans grout lines, eliminating deep-seated dirt and mould.
SX-15 Hard Surface Spinner Attachment
The SX-15 Tile & Grout Spinner makes hard surface cleaning a breeze with its economical, lightweight design and high pressure cleaning from 400-1000 PSI. It is designed to efficiently clean a variety of surfaces including grouted ceramic tile, sidewalks and concrete floors.
Put the SX-15 with Esteam's E1200 carpet floor cleaner machine and reap the benefits of offering a hard surface, Tile & Grout and carpet cleaning service to your clients.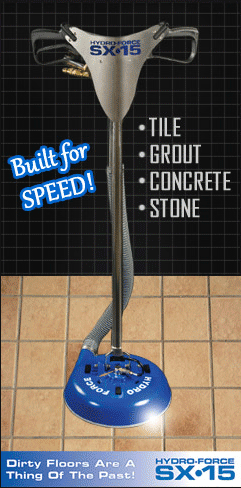 Upholstery and Carpet Cleaning: The versatility of the E1200 extends beyond hard surfaces and tile & grout. With the right attachments, including carpet cleaning wands and upholstery cleaning tools the E1200 can be used for hot water extraction to clean upholstery and carpets, making it an all-in-one solution for various cleaning needs.
Here are just a few things the E1200 can clean:
Floors, tile and grout lines, concrete surfaces, ceramic tiles, laminate flooring, marble and stone surfaces, vinyl and linoleum floors, carpeted areas, upholstered furniture, area rugs, vehicle interiors (carpets and seats), stairs and staircases, patio and deck surfaces, garage floors, fabric and cloth materials, office chairs and furniture, pet beds and pet areas, shower walls (utilizing the appropriate cleaning attachments) and floors, kitchen counter-tops, and high-traffic areas in commercial spaces (e.g., lobbies, waiting rooms) and much more!
Chapter 4: Sustainability and Eco-Friendliness
The Esteam E1200 not only saves you the cost of purchasing separate cleaning machines but also saves your precious time. With its powerful performance and wide coverage, you can accomplish your cleaning tasks in a fraction of the time it would take with conventional methods. Additionally, the E1200's Eco-friendly cleaning solutions and water-efficient technology contribute to cost savings and a reduced environmental impact.
The Esteam E1200 is not just a cleaning powerhouse; it also emphasizes sustainability. The machine uses environmentally friendly cleaning solutions and minimizes water consumption, ensuring an Eco-conscious approach to cleaning without compromising results.
In conclusion, the Esteam E1200 Professional Tile and Grout Cleaning Machine is a game-changer in the world of portable extractors. Its dual-purpose functionality for hard surface cleaning, tile and grout cleaning, and versatility for other cleaning tasks make it a valuable asset for professionals and homeowners alike. With its powerful performance, portability, and Eco-friendliness, the E1200 is a testament to the advancement of cleaning technology, ensuring cleaner and healthier living spaces for everyone. So, whether you are a professional cleaner or a homeowner looking for a reliable cleaning solution, The Best Tile and Grout Cleaner Machine (Esteam E1200) should be at the top of your list.