Professional Tile and Grout Cleaning Machine, Commercial Hard Surface Cleaning Machine – E-1200
Engineered for professional hard surface (tile & grout, bathroom tile cleaning, ceramic tiles), carpet cleaning, upholstery cleaning and more!
The E1200 Professional Tile and Grout Cleaning Machine is a CSA/US approved dual purpose portable commercial tile floor steam cleaner engineered for hard surface, tile & grout and carpet and upholstery cleaning (optional upholstery cleaning tools available). This 10 gallon extractor comes with auto fill and auto drain, front mounted pressure adjuster and pressure gauge for user convenience. The external filter protects the internal pump out by catching debris before it goes into the recovery tank.
The Ninja E-1200 commercial tile and grout cleaning machine is a state-of-the-art solution for restoring the shine and cleanliness of tiled surfaces. Engineered with cutting-edge technology, this machine combines powerful agitation, heat, and high-pressure water extraction to deep-clean tile and grout effectively. Its robust 1200 PSI pump ensures thorough removal of stubborn grime, grease, and stains, leaving tiles looking revitalized and grout lines pristine.
The E-1200's adjustable pressure settings allow for customized cleaning based on the specific surface and soil level. Its user-friendly design and compact size make it suitable for both residential and commercial use. With the Ninja E-1200 carpet and hard floor cleaner machine, achieving professionally cleaned carpet, upholstery (with optional upholstery cleaning tools) and tiles & grout has never been easier.
E-1200 Features:
Adjustable plunger pump up to 1000 PSI
Dual 2-Stage Vacuum Motors (150″ Water Lift)
Auto Pump Out 1800 GPH/30 GPM with 50' of Discharge Hose
Auto Fill Feature with 50' Fill Hose
External Filter with 4′ hose
Pressure Gauge
8″ rear anti static wheels
4″ front anti static swivel casters
Rotomolded Housing with Limited Lifetime Warranty
10 Gallon (40 Litre) Solution and Recovery Tanks
Quick Latch Body for Easy Servicing
Dual 25′ Power Cords
One Year Warranty on Major Components
Weight: 140 Lbs.
CSA Approved Unit
Optional Circuit Indicator
Ensure you are plugged into separate circuits with Esteam's Circuit Indicator. Two cord machines equipped with this option will illuminate a green light that indicates the cords are on separate circuits and the machine is ready for operation.
SX-15 Hard Surface Spinner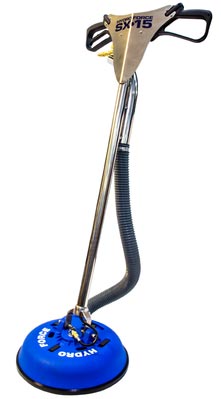 The SX-15 Tile & Grout Spinner makes hard surface cleaning a breeze with its economical, lightweight design and high pressure cleaning from 400-1000 PSI. It is designed to efficiently clean a variety of surfaces including grouted ceramic tile, sidewalks and concrete floors.
Put the SX-15 with Esteam's E1200 carpet floor cleaner machine and reap the benefits of offering a hard surface, Tile & Grout and carpet cleaning service to your clients.
How to Clean Tile and Grout Floors
15″ Vacuum Path
Tool-less design makes changing the boots a breeze
Toe-adjustable vacuum relief lets you adjust the suction strength on the fly
Low profile allows the unit to fit under toe kicks
Operating pressures from 700 to 2,600 PSI
Stainless steel handle and high-tech polymer casing
Use side-to-side or front-to-back cleaning strokes
Lightweight construction makes it feel like the machine is floating along the floor
Tool length is comfortable for users of all heights
We also stock a wide selection of specialty cleaning chemicals, carpet cleaning wands, upholstery tools and accessories. Call or visit us today!
Looking for Used Carpet Cleaning Machines Toronto GTA? Click Here!
Image Gallery: