Oreck Orbiter XL PRO: The Ultimate Commercial & Residential Floor Cleaning Machine
Keeping commercial and heavily trafficked residential spaces spic and span is no easy task. Floors endure constant wear and tear, accumulating dirt and grime that can be a nightmare to clean. Enter the Oreck Orbiter Compact Floor Scrubber, a game-changer for maintaining pristine floors effortlessly. In this blog post, we'll explore why the Oreck Orbiter XL PRO is an excellent purchase, highlighting its features and the variety of surfaces it can tackle.
1. Versatility and Efficiency:
The Oreck Orbiter XL PRO is designed to be a versatile all-in-one solution for commercial & residential floor cleaning. Its powerful motor and oscillating motion eliminate the need for multiple machines, saving you time, effort, and storage space. It can handle various floor types, making it ideal for a wide range of commercial settings, including offices, hotels, retail stores, schools, and more.
2. Orbital Cleaning Technology:
The secret to the Orbiter's outstanding performance lies in its unique orbital cleaning technology. Unlike traditional floor machines that use rotary brushes, the Orbiter's oscillating movement avoids creating swirls or marks on the floor. This gentle yet effective motion not only cleans the surface but also extends the life of your floors, making it a long-term cost-effective investment.
3. Multiple Cleaning Modes:
The Oreck Orbiter XL PRO compact floor scrubber offers multiple cleaning modes utilizing the many different pad and brush attachments to cater to various floor care needs. It can scrub, buff, wax, polish, and sand floors, providing a comprehensive solution for maintaining different surfaces. This adaptability allows users to achieve professional-quality results, regardless of the task at hand.
4. Ease of Use:
One of the most significant advantages of the Oreck Orbiter XL PRO is its user-friendliness. It features an ergonomic design and adjustable handle height, ensuring comfort during operation. Moreover, its straightforward controls make it accessible for users of all experience levels, empowering your cleaning staff to work efficiently. The Oreck XL Pro also features an extra long 50 ft. electrical cord to move from room to room without the hassle of unplugging.
5. Low Maintenance and Durability:
Commercial cleaning machines must withstand heavy usage, and the Oreck Orbiter XL PRO delivers on that front. Its rugged construction and high-quality materials ensure durability and minimal maintenance. With proper care, this cleaning machine will be a reliable asset for years to come.
Surfaces the Oreck XL Pro Can Clean:
The Oreck Orbiter XL PRO is compatible with a wide range of surfaces (weighing only 33 lbs), making it a versatile choice for commercial establishments. Some of the surfaces it can effectively clean include:
Maintain Hardwood Floors: Restore the natural shine of hardwood floors without the risk of damage.
Tile and Grout: Eliminate stubborn grime and stains from tile and grout lines, revitalizing the appearance of your tiled surfaces.
Carpets: Utilize the Oreck carpet shampooer to dry carpet cleaning, effectively removing dirt and debris from the carpet fibers.
Vinyl and Linoleum: Buff, polish, or wax vinyl and linoleum floors to achieve a high-gloss finish that leaves a lasting impression.
Concrete: Sand away imperfections on concrete floors, leaving them smooth and ready for a polished look.
Marble and Stone: Polish and maintain the natural beauty of marble and stone surfaces, enhancing the overall aesthetics of your space.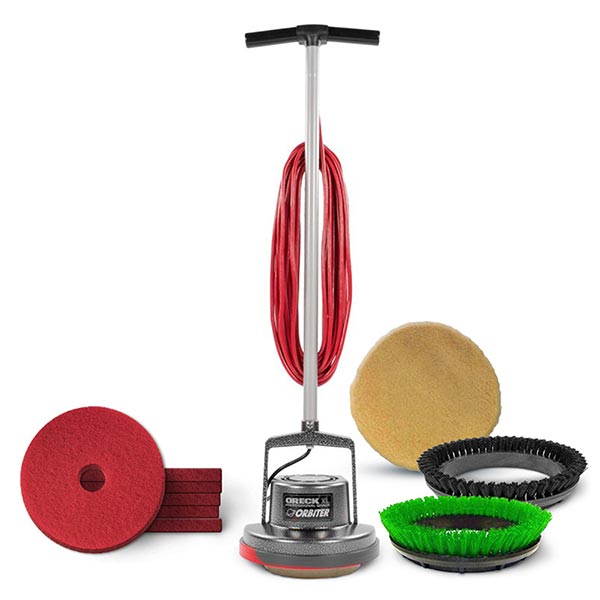 *Brushes and cleaning pads are not included with purchase of unit. They are sold separately.
The Oreck Orbiter XL PRO Commercial Floor Cleaning Machine is a sound investment for any commercial or residential establishment. Its versatility, efficiency, and user-friendliness make it an indispensable cleaning tool for maintaining a variety of floor surfaces. By employing this powerful cleaning machine, you can save time, money, and effort while ensuring your floors consistently look their best. Elevate your floor cleaning game with the Oreck Orbiter XL PRO and witness the transformation of your flooring like never before!