The Ultimate Cleaning Companion: The RotoWash Commercial Floor Scrubber Machine
Cleanliness and hygiene are paramount in commercial spaces. Whether it's a bustling restaurant, a busy shopping mall, or a corporate office, maintaining pristine floors is essential for both aesthetics and safety. Traditional mops and manual scrubbing can be time-consuming and ineffective, especially for larger areas. Enter the Rotowash Commercial Floor Scrubber Machine – a game-changer in the world of commercial floor cleaning.
In today's blog post, we will explore the exceptional features and benefits of the Rotowash Commercial Floor Scrubber Machine, a cutting-edge cleaning solution that has earned its place as one of the best in the business.
Rotowash Efficiency and Speed
One of the standout features of the Rotowash is its unmatched efficiency and speed in cleaning commercial floors. Traditional methods like mopping or using a standard floor scrubber can be time-consuming, often requiring multiple passes to achieve a clean surface. In contrast, the Rotowash's unique design allows it to simultaneously scrub, wash, and dry in a single pass. This not only saves time but also reduces water usage and minimizes the risk of slip-and-fall accidents, a common concern in commercial settings.
Rotowash Versatility
The RotoWash commercial tile floor cleaning machine is a versatile and efficient cleaning solution designed to clean a wide range of surfaces. Here's a comprehensive list of surfaces that the RotoWash can effectively clean:

Hard Floors:

Tile, Ceramic, Porcelain, Terrazzo, Marble, Granite, Vinyl, Linoleum, Concrete, Hardwood, Laminate

Carpeted Surfaces:

Wall-to-wall carpets, Area rugs, Carpet tiles, Commercial-grade carpets, Low-pile and high-pile carpets

Stone Surfaces:

Natural stone floors, Slate, Limestone, Travertine, Sandstone, Flagstone

Safety Flooring:

Rubber flooring, Non-slip flooring, Textured surfaces

Epoxy-Coated Floors:

Often found in industrial and commercial settings

Sports Flooring:

Gymnasium floors, Sports courts, Indoor tracks, Multipurpose sports surfaces

Outdoor Surfaces:

Patios, Decks, Walkways, Driveways

Grouted Floors:

Floors with grout lines, such as tiled surfaces

Textured Floors:

Surfaces with various textures or patterns

Concrete Floors:

Including stained or sealed concrete

Warehouse Floors:

Industrial concrete floors, High-traffic areas

Retail Store Floors:

Shopping mall floors, Retail shop interiors

Office Building Floors:

Hallways, Lobby areas, Common spaces

Hospitality Industry:

Hotel hallways and lobbies, Restaurant floors

Healthcare Facilities:

Hospital corridors, Clinic waiting areas

Educational Institutions:

School hallways, College and university buildings

Food Service Areas:

Commercial kitchens, Restaurant dining areas

Entertainment Venues:

Movie theater lobbies, Concert halls

Public Transportation Facilities:

Airport terminals, Train station platforms

Automotive Facilities:

Car dealership showrooms, Service bays
The Rotowash's adaptability to a wide variety of surfaces makes it a valuable asset for cleaning professionals in various industries. Whether you need to maintain the appearance of hard floors, rejuvenate carpets, or tackle specialized surfaces, the RotoWash is designed to provide efficient and effective cleaning results.

Rotowash Deep Cleaning and Stain Removal
One of the key advantages of the Rotowash is its ability to deliver a deep, thorough clean. It utilizes a high-speed rotary brush system that agitates dirt and grime from deep within the floor's surface. This deep cleaning action not only restores the floor's appearance but also removes stubborn stains, leaving your floors looking brand new.
Rotowash Eco-Friendly
In today's world, environmental sustainability is a top priority. The Rotowash Commercial Floor Scrubber Machine is designed with eco-friendliness in mind. Its efficient water and detergent usage, combined with its one-pass cleaning capability (models that are one-pass utilize a water pump system), significantly reduces water and chemical waste. This not only saves you money but also contributes to a cleaner, greener planet.
Rotowash Easy to Use
Despite its advanced technology, the Rotowash is incredibly user-friendly. It features intuitive controls, making it accessible to both experienced cleaning professionals and newcomers. The machine's compact design allows for easy maneuverability in tight spaces, ensuring that every corner of your commercial space is cleaned effectively.
Rotowash Cost-Effective
Investing in the Rotowash Commercial Floor Scrubber Machine is a smart financial decision for any business. By reducing labor costs, minimizing the need for frequent maintenance, and extending the lifespan of your flooring, this machine offers an excellent return on investment. It's a long-term solution that pays for itself over time.
Conclusion
In the world of commercial floor cleaning, the RotoWash Commercial Floor Scrubber Machine stands out as the best choice for businesses seeking efficiency, versatility, and cost-effectiveness. Its ability to deep clean, remove stains, and improve the overall appearance of your floors is unmatched. Plus, its eco-friendly design and ease of use make it a must-have for businesses committed to both cleanliness and sustainability.
If you're ready to elevate your commercial floor cleaning game and transform your space, the Rotowash is the ultimate cleaning companion you've been waiting for. Say goodbye to time-consuming, ineffective cleaning methods and hello to the future of commercial floor cleaning with Rotowash.
Visit our showroom in Toronto for a Rotowash demonstration!
Our Address:
Kleen Kuip Supply Mart Inc.
11 Banigan Drive
Toronto, ON Canada
M4H1G3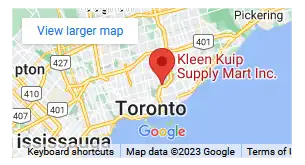 Phone: 416-429-0401 (Local Toronto)
Toll Free: 1-800-565-2574 (Out of Town)
Hours of operation:
8:30am to 4:30pm Monday to Friday
We have a full Service, Parts and Repair Shop
Click or Tap Here for More Information about The Rotowash Floor Cleaning Machine