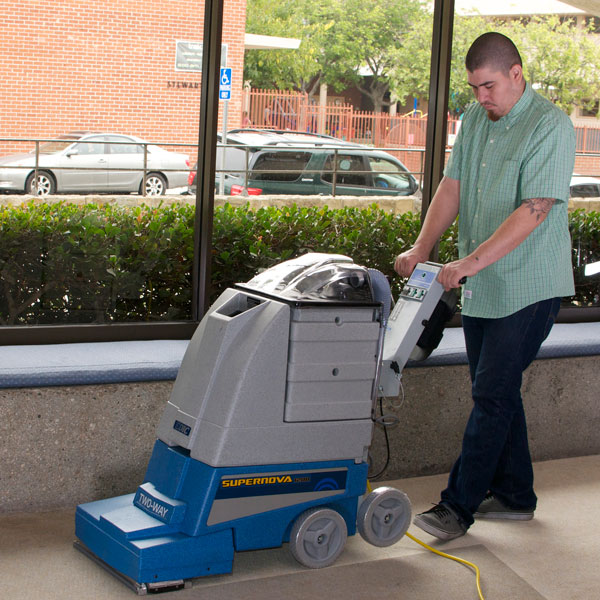 Supernova 800 & 1200 Self-Contained Carpet Extractors
Cleans in Forward or Reverse
There is literally nothing like the Supernova™ series of self-contained carpet extractors. A remarkable self-contained extractor that cleans carpet in both forward and reverse, providing unparalleled productivity in any facility with large areas of carpet to clean. A simple pull of the lever instantly changes between forward and reverse to assist with movement reducing strain on the operator.  The Supernova is the only self-contained carpet extractor in the industry that has a dual vacuum system for unmatched water and soil recovery for carpet cleaning. The Supernova increases productivity on maintenance carpet cleaning jobs to dramatically reduce labor costs.
Features:
Two-way system for forward and reverse operation
Patented self-adjusting, self-leveling brush and vacuum shoes for easy cleaning of all carpet lengths and uneven floors, plus longer brush life
Exclusive "clamshell" body provides fast and easy internal access for quick servicing
Patented lift-off recovery buckets -no drain hose
Fully adjustable handle
Patented 4-wheel design gives extraordinary balance and reduces turning radius for easy maneuverability in tight areas
Side extension for cleaning right to baseboards
Dual spray jets on both sides of the brush suspend the soil for increased pick up and faster drying
A specially designed floating vacuum head and agitator brush allows cleaning on hard floors in addition to carpets without any cumbersome attachments. Just walk off carpet on to hard floors, it's that simple. Dual vacuum motors and a 19" cleaning width on the 800 and 1200 models combine with a host of other exclusive features to guarantee unrivaled performance.
| | | |
| --- | --- | --- |
| Model | 800PSN | 1200PSN |
| Solution Tank | 8 gallon | 12 gallon |
| Solution Pressure | 50 psi | 50 psi |
| Vacuum Motors | Dual 2-stage bypass 3.5 HP | Dual 2-stage bypass 3.5 HP |
| CFM | 200 | 200 |
| Brush Motor | 4200 RPM, 1/6 HP | 4200 RPM, 1/6 HP |
| Brush Speed | 2100 RPM | 2100 RPM |
| Brush Style | Chevron design | Chevron design |
| Bruch Bearings | Sealed, stainless steel ball bearings | Sealed, stainless steel ball bearings |
| Cleaning Width | 19 inches | 19 inches |
| Construction | Polyethylene | Polyethylene |
| Wheels | 8″ non-marking | 8″ non-marking |
| Power Cord | 50′ detachable | 50′ detachable |
| Dimensions | 38″H x 39″L x 19.25″W | 38″H x 39″L x 19.25″W |
| Weight | 113 lbs. | 123 lbs. |
| Shipping Weight | 136 lbs. | 146 lbs. |
| Shipping Dimensions | 42″H x 45″L x 25″W | 42″H x 45″L x 25″W |
| Electrical Draw | 15 amps | 15 amps |
| Warranty | 5 year parts & labor, lifetime on body | 5 year parts & labor, lifetime on body |