Hydramaster RX-20 Carpet Cleaning Power Head
Total Floor Care Cleaning System

Rotary Carpet Extraction – Bonnet Cleaning – Hard Surface Cleaning


CORNERS BEAUTIFULLY…
POWER STEERING STANDARD!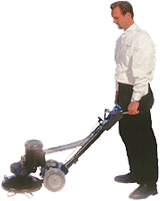 The agile, easy-to-handle RX-20 High Speed can revolutionize your steam cleaning experience. Join the thousands of cleaners worldwide who have profited from cleaning performance that "wand cleaning" can't equal. Enjoy the luxury of maximum performance from your Truckmount or Portable cleaning equipment and "Speed" into profits.
The Hydramaster RX-20 is a tool every cleaner should have.
The amazing RX-20 Rotary Jet Extractor has revolutionized the way carpets are cleaned. With 5 spray jets matched with 5 vacuum slots, the RX-20 makes over 650 cleaning passes per minute. This super agitation, combined with the unit's weight, deeply cleans, extracting soil and cleaning solution. The rotating head cleans all sides of the carpet fiber, fluffing up and restoring the pile. Save your back, clean more carpets and clean them better!
ROTARY EXTRACTION
A New Class of Cleaning…
Hydramaster introduced the first RX-20 Rotary Jet Extraction Power Head to the professional carpet cleaning industry over 10 years ago. The tremendous benefits of the revolutionary patented cleaning process were instantly recognized and embraced by the industry leaders. The RX-20 has been tested and proven to be the most effective on-site carpet cleaning process ever developed.
Today the RX-20 is in use by more than 10,000 professionals around the world. Here are a few of the reasons why…
Labor Savings
Anyone who has cleaned a few carpets with a scrub wand can tell you it's most definitely hard work! The principle behind using the RX-20 is to let the motor do all the work for you. If you've ever handled a shampooer or hard floor buffer, you know that once you achieve the balance point of the unit, a slight lift or drop of the handle will cause the tool to sweep from side-to-side. The effort it takes to do this is a fraction of that required by the manual push-and-pull of a Scrub Wand. Burning fewer calories, a carpet cleaner can clean thousands more feet of carpet a day with energy left over. Whether this extra energy goes into selling more jobs, maintaining equipment or back into one's personal life, the benefits are self-evident.
Consistency over time
Anyone can pick up a wand and do vigorous, productive cleaning for a few minutes, but put an operator into a good-size job, and after a few hours it's guaranteed that his speed will decrease, his cleaning will suffer, or both. Another advantage of the RX-20 is that the pace and effectiveness of cleaning can stay rock steady hour after hour. A cleaner with an RX-20 an work for eight hours and at the end, the machine is cleaning just as fast and just as good as it was at the beginning of the job. This consistency translates into improved quality of service that is not operator dependent. Operators ranging from a petite woman to a professional athlete can produce equally well.
Cleaning results
Some have thought that if they worked enough with a wand, they could equal the cleaning of a Rotary Extractor. We've since proven otherwise. There are cleaning dynamics taking place with and RX that can't be duplicated by hand. Do the mathematics. It starts with exposure of a fiber to the cleaning process. Imagine the star on an RX rotating at 130 RPM. This means over two rotations every second! Now, don't forget that there are five (5) individual cleaning heads on the star. Each of these heads has it's own spray-jet and vacuum slot.
If you were a fiber, you would be looking up at 10 of these injecting/extracting heads passing over each second. That's a lot of action and it's no wonder a fiber gives up dirt! This cleaning exposure cannot be duplicated by the action of a wand, not even for a moment, let alone hour after hour.
For truckmount & portable carpet cleaning systems
Customers will be impressed by the high-tech approach to cleaning that the RX-20 gives, setting your operation apart from those that only use a wand. Experience has shown this to be true as repeat customers often call specifically requesting the rotary extraction of an RX-20.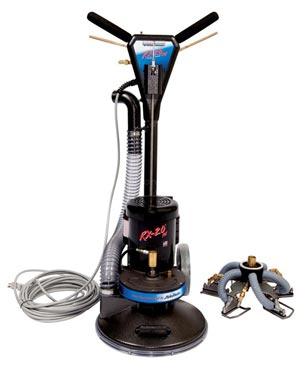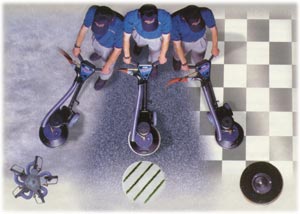 1 Tool for 3 Jobs… Carpet Extraction, Bonnet Cleaning, and Hard Floor Cleaning.

Two more reasons to own an RX-20
Thousands of cleaners have chosen the Hydramaster RX-20 for one simple reason. Nothing you can use will get carpets cleaner or require less effort. Now there are two more money making reasons to own an RX-20. With a quick change, the RX-20 converts to Bonnet Cleaning by changing the Extractor star for a bonnet-driving head. Screw on the hard floor head for a unique Hard Floor Cleaning System complete with water-jet and vacuum pick-up.

A bonnet cleaning system!
Whether bonnet cleaning an olefin carpet or using a bonnet as a final drying step, you'll love the versatility of the RX-20. More and more experienced cleaners are adding bonnet cleaning to their list of services. They have found the bonnet great for treating wicked-up soils or reappearing spots.

A hard floor cleaning system!
The RX-20 Hard Floor Head opens new possibilities for your cleaning operation. Now you can clean a homeowner's tile floor or concrete with the same tool that you just used on her living room carpet. Clean stained and spotted floor tiles, or strip wax from linoleum. For the price of an easy-to-change cleaning head you can add new services to your business and carry only one machine!

There are cleaning dynamics taking place with an RX-20 that can't be duplicated by hand.

Consistent cleaning with improved quality that is not operator dependent.