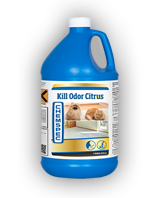 Kill Odor Citrus

Neutralizes odors and odor-causing sources when used as prespray or added to cleaning solution.Effectively removes odors caused by urine, vomit, smoke, perspiration, medicine, rancid foods and oils.
Form: Liquid concentrate
SKU Quanity: Case of 4 one-gal. bottles
Unit Size:

1 gal. / 3.8 L bottle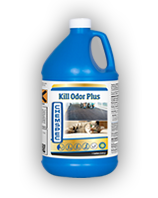 Kill Odor Plus

Our most aggressive odor control – use as a carpet prespray or hard surface cleaner.
Highly effective deodorizer with aggressive surfactants and odor counteractant. Also useful as a traffic lane cleaner to neutralize urine and other organic odors in carpet. Ideal for residential, health care and educational applications.Also recommended as a cleaner and odor control product for restrooms.
Form: Liquid concentrate
SKU Quanity: Case of 4 one-gal. bottles

Unit Size:

1 gal. / 3.8 L bottle