Carpet Spot and Stain Removal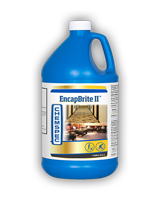 EncapBrite II

Mild acid pH encapsulating cleaner uses the power of hydrogen peroxide to remove spots, spills and stains. Specifically developed for interim maintenance and low moisture cleaning methods, EncapBrite II encapsulates soils and dries to an easy-to-vacuum crystalline powder.
Form: Liquid
SKU Quanity: Case of four 1 gal. / 3. 8 L bottles
Unit Size: 1 gal. / 3.8 L bottle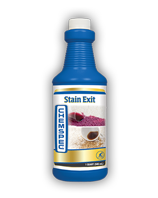 Stain Exit

Stain Exit offers easy and highly effective removal of organic stains including wine, fruit juices, tea, coffee and more without the need for heat. Stain Exit – your go-to organic stain remover!
Form: Liquid
SKU Quantity: Case of twelve 1 qt. / .9 L bottles

RTU pH: 3.5

Unit Size: 1 qt. / .9 L bottle
How to identify and remove spots & stains from carpets.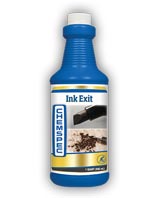 Ink Exit

Breakthrough ink removal technology that removes ink stains fast without the use of harsh solvents. The product has no VOCs, which means no strong smells, and it's easy to apply. The product will not delaminate carpets and rinses clear with water.
Form: Liquid
SKU Quantity: Case of twelve 1 qt. / .9 L bottles

RTU pH: 7.2

Unit Size: 1 qt. / .9 L bottle