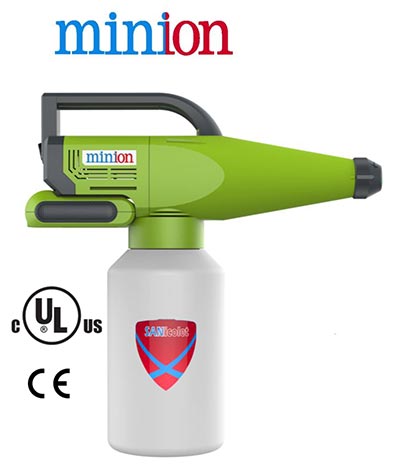 Portable Electrostatic ULV Spayer – Minion
High Intensity Negative Ion Generator
When you need to go beyond traditional cleaning, aerosol cans of disinfectant and paper towels just aren't going to get the job done. In order to disinfect entire rooms, purify the air, eliminate germs, viruses, and odours quickly and effectively, you need the Minion Electrostatic Handheld Sprayer.
The Minion is equipped with Negative-ion technology and ionizes the air while spraying. Negative-ions neutralize positively charged airborne particles, then they settle down on the surface. The disinfectant being sprayed by minion, then covers the surfaces and kills those airborne pathogens as well.
The Minion not only is for disinfection of the surfaces, but also for purifying the air. minion comes with a 20V 2500mA Li-ion battery and a 1.8L container. Rotate the nozzle to adjust the spray flow rate. It weights only 3.3lbs. Second battery is optional.
Battery lasts approximately half-hour depending on spray flow rate. Our machine is sold with 2 batteries.
Watch the video below…
Powerful New Generation Handheld Sprayer with Dual Function Electrostatic Technology
This technology negatively charges the air that is blown out of the sprayer, the air and disinfecting solution come out of the sprayer nozzle at the same time, however the negative ions in the air are attracted to the airborne particles that are positively charged in the surrounding air
These could be dust, pollen, and pathogens of viral, bacterial or fungal origin, particle matters less than 2.5 microns (PM 2.5)
As soon as the negatively charged ions stick to positively charged airborne particles they neutralize them
Once neutralized, the particles gain weight and start descending to lower surfaces, these could be a table top, a counter or the floor
The disinfecting liquid, which accompanies the air, then sits on the surface and effectively kills all the pathogens
As a result, this technology aims to not only disinfect the surfaces but also purify the surrounding air.
Specifications:
Container volume: 61oz (1.8L)
Spray flow-rate: 2.4oz/min (70mL/min)
Effective spray distance: 10ft
Air flow-rate: 8800cft (250cbm)
Static ion coverage distance: 16ft
Negative ion intensity: 8200W/in3 (500W/cm3)
Battery: Li-ion 20V- 2500mA (Optional 2nd battery)
Power: 129W
Current: 6 amps
Operating time: 25~30 minutes
Charging time: 3 hours
Charger input power: AC 100-240V 50hz/60hz
Noise level: 90dB
Net weight: 2.1lbs
Charging time: 3.5 to 4 hours
Operating time: 25-30 minutes
Container size: 1.8 litre
Atomized volume: 2.4 oz per minute
The nozzle can be rotated to adjust flow rate of spraying from 50 to 70 microns
Comes with 2 batteries
1 Year Warranty

Download Brochure
Be sure to check out our All Natural Botanical Environmentally Safe Disinfecting Products