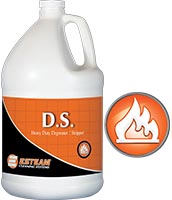 D.S.
D.S. is a heavy duty concentrated cleaner for use on hard surfaces. This powerful cleaner is formulated to attack extreme grease and smoke film on hard surfaces. It can be used as an additive to Esteam C.O. as a boosting agent. D.S. effectively removes light to moderate smoke residue on brick and masonry fireplaces.
Diluted pH: 11.9
Dilution Ratio: Up to 1:80
Available in: 4 L (1.06 US gal), 20 L (5.28 US gal) or 205 L (54.1 US gal)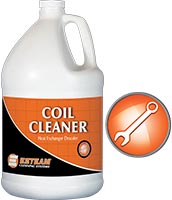 COIL CLEANER
Coil Cleaner is specially designed for use in truckmounted carpet cleaning extractors to remove hard water build-up and chemical deposits from heat exchangers. Regular use of Coil Cleaner will help prevent heat loss, and plugged heat exchangers.
pH: 0.5
Dilution Ratio: Ready to use
Available in: 4 L (1.06 US gal) or 20 L (5.28 US gal)

Heat Exchangers can be costly to replace.
Be sure to keep the coils clean in your truckmount to eliminate costly down time.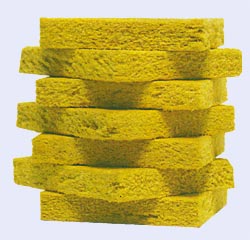 Clear the air with Esteam Fresh Scent Wafers…available in cherry, cinnamon, lemon and winter pine.

These rubberized sponges are designed to remove fire soot in a dry state. Tiny porous cells lift soot from surfaces quickly without smearing.
3-1/2″ x 6″: E218-185
3″ x 9″: E218-186