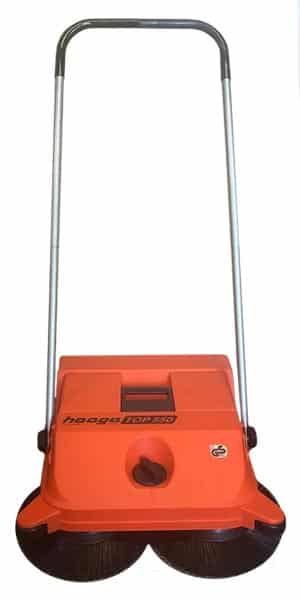 Floor Sweeper – Haaga Top 550
Haaga Top Sweeper can be used on all hard floors. Example: sidewalks, court yards, garages, parks, roads, on low pile carpeting at home or industries.
Price: $399.00 reduced to $299.00
*All pricing subject to change without notice
A few convincing advantages:
Due to low weight it easily pushes by hand and is noise free
The protruding flex bristles make it easy to get into corners and tight areas
Easy removal of large debris from refuse container
No electrical or battery components, maintenance free
Easy dial setting of brush sweeping pressure
Comfortable handle for effortless operation, fits all. Can be operated by all ages
Storage space is minimal
Fast, easy, convenient, light weight, well constructed, time saving plus inexpensive
Guaranteed to totally satisfy
Haaga Saves Time, Money and Your Nerves
The cleaning is very efficient because the patented brush discs rotate against each other without producing any dust. As the unit is pushed forward Haaga effortlessly collects all debris and refuse into its canister and holds for dumping. Because the broom and brush bristles protrude at the front and side, it easily gets into corners and tight areas. It is not the operator doing the work but the machine. Haaga will become your newest environment friend.
Be part of a new era in clutter free immaculate cleanliness with an environmentally friendly product for household and industry. It's even fun to use. Employees will now fight for the job they once hated and love doing it.