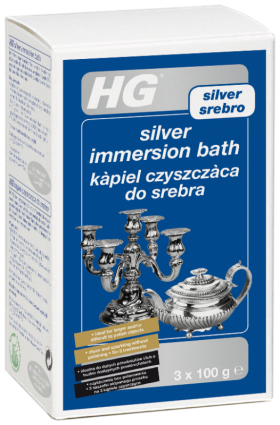 HG Silver Immersion Bath
HG Silver Immersion Bath cleans silver or silver-plated objects that have started to look dull or black. Our silver bath is particularly suitable for objects with lots of decorative elements or places that are difficult to reach with a polishing cloth.
Our silver bath cleans without polishing.
Silver objects with many decorative elements or gaps, such as trays and candleholders, that are difficult to clean with a traditional polish oxidise and become dull. After treatment with HG silver immersion bath, the silver regains its original shine and colour without having to polish.
Ideal for large and/or difficult to polish objects
Clean and shine without polishing
For 3 treatments
How do you use HG silver immersion bath?
Do you need to you a silver immersion bath? Complete the following steps to clean silver objects and to make them sparkling clean with HG silver immersion bath:
First remove the greasy deposit, old silver polish remnants, nicotine stains or candle wax with hot soapy water. If necessary, use a soft brush to remove the dirt from gaps.
Then dry the silver thoroughly.
Remove any protective layers, such as HG silver & copper polish-no-more, with acetone.
Use one bag of activating powder to 3L of water.
Fill a plastic basin, dish or bucket with hot water (make sure the sure the entire silver object fits). This is you silver bath.
Use enough water to submerge the silver completely.
Dissolve the powder from the bag and stir well.
Place the HG silver immersion bath reaction plate in the container.
Put the object in the container and make sure it always touches the reaction plate.
After maximum 30 seconds remove the silver object from the container and rinse it off with plenty of hot water.
To achieve a beautiful polished shine, we recommend buffing up the silver object with an HG silver shine cloth.