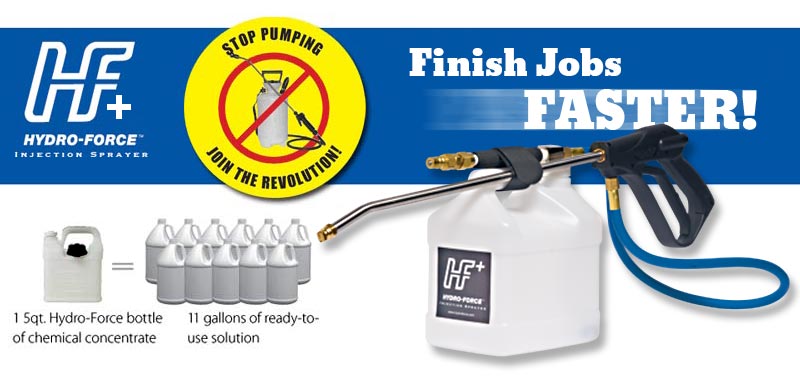 Hydro-Force™ Plus Injection Sprayer
The original injection sprayer (100 – 1,000 PSI)

Finish Jobs Faster with Hydro-Force™ Injection Sprayers
For those that want an exceptional sprayer at a great price. The Hydro-Force Plus offers many of the great benefits of the Hydro-Force Pro injection sprayer including the same durable spray gun, stainless steel extension and long-lasting injection valve.
Every once in a while, an idea comes along that revolutionizes an industry. The Hydro-Force injection sprayer did just that over 30 years ago when it was developed to dramatically improve how a technician applied chemical. The injection system allowed a technician to apply chemical faster and more evenly than pump-up sprayers, decreasing the time it took to complete a job and improving the quality of their cleaning.
Years later, the Hydro-Force sprayer is still an essential part of every cleaner's arsenal. With over 30 years of engineering and testing, the Hydro-Force injection sprayers have proven to be the most durable and trusted injection sprayer in the world.
For those that demand the best, the Hydro-Force Pro has all the great features you've come to expect along with a new 5 qt. container that makes the best sprayer in the industry even better! Cut your spray time in half! Quickly apply presprays, deodorizers, tile and grout cleaning solutions, sanitizers, protectors and more.
Benefits:
Patent-pending container design makes the Hydro-Force sprayer the most convenient sprayer on the market.
Large side-fill port – refill without removing the injector assembly
Wand holder to keep your wand off your customer's floor
Recessed handle – no more annoying velcro straps
Operating pressure range of 50-1,000 PSI
Eliminates annoying mixing required by pump up sprayers
High-quality quick connects allow your gun to swivel and permits quick removal
Specifications:
5 qt. transparent container w/qt. measurement markings
Quick connects for swiveling and quick removal
Spray gun rated at 2600 PSI and 7 GPM
7 dilution ratios using metering tip kit NA0816A
Chemically-resistant seals
18″ stainless steel wand
Rotomolded container
Tethered cap