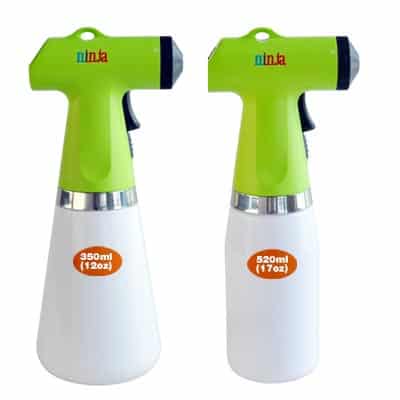 Multi-Purpose Rechargeable Handheld Trigger Sprayers
Ninja is an eco-friendly handheld sprayer for environmentally responsible organizations.
Ninja is an ergonomic multi-purpose rechargeable trigger sprayer with adjustable nozzle that can spray a wide stream of jet to fine mist.
Ninja has an integrated lithium-ion battery 3.7V-2200mAh, powerful enough to spray up to 100 bottles per charge. Charging is through a USB type C port and can be connected to any standard USB port by means of the supplied USB cord.
A great sprayer for auto detailing and upholstery prespraying.
The Ninja handheld sprayer can operate in two modes: Automatic and Manual. Keep the trigger down to spray with Ninja as long as you hold it or push the trigger twice to operate in automatic mode; a finger free spraying experience!
Features include:
battery indicator
safety lock
belt hook holder
large bottle neck
easy twist bottle
light weight
non-transparent bottle
liquid filter
long spray distance