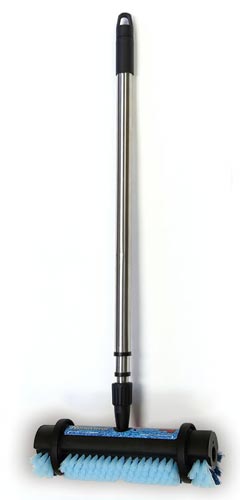 Rug Renovator Carpet Cleaning Brush
The Rug Renovator Spot & Stain Remover combines excellent cleaning features into one very versatile, effective and efficient cleaning product.
Today's consumer takes great pride in their home. Keeping your home clean, comfortable, and attractive requires ongoing maintenance. Foot traffic, pets, and gravity mean that carpeting, area rugs and tiled surfaces collect more dirt, hair, crumbs, allergens and spills than any other household surface.
Over time, routine vacuuming and sweeping alone are not sufficient to remove spills, stubborn stains, worn-in dirt, or embedded debris. The secret to the Rug Renovator™ is the special brush design and the advanced chemistry of our cleaners working together in harmony.
Eliminates the need to bend down and scrub carpets and area rugs anymore.
Sturdy, adjustable handle allows consumers to work at a comfortable and ergonomic operating position.
Radial curvature of the brush allows more uniform distribution of the cleaning chemicals.
Side wheels give support to the brush block creating a constant angle for the brush to clean effectively.
Two Carpet Brush selections – easy (Light Blue bristles) or aggressive (Dark Blue bristles) – give you the flexibility to clean different types of carpet, area rugs, spots and stains
The Rug Renovator is lightweight, durable and has a retractable handle for easy storage.
Consumers save money and see great results versus paying a professional cleaning company.