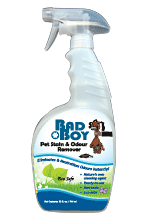 Bad Boy
Pet Stain & Odour Remover
Eliminates & Neutralizes Odours Instantly!

Bad Boy is a unique concentrated safe bacterial enzyme digester and deodorizer. Removes stains and odours caused from pet feces, urine, blood, vomit, grass, etc,.
Highly potent liquid concentrate of specially selected multi-cultured safe bacterial strains. These enzyme catalysts work synergistically for the fastest action available to remove pet stains and odours.
Nature's own cleaning agent
Ready-to-use
Non-toxic
Eco-safe
May be used in place of standard rotary or extraction cleaner for tough odour problems
Available in 32 oz. and 1 gallon