Revolutionize Your Building Facility Management and Contract Cleaning with the Rotowash Commercial Floor Cleaning Machine!
Work Smarter, Not Harder
Are you tired of spending countless hours and resources on labor-intensive floor cleaning tasks in your facility? Look no further! The Rotowash Floor Cleaning Machine is here to transform your building facility management and contract cleaning operations, making them more efficient, effective, and environmentally friendly.
A Game-Changer in Facility Management
Maintaining a clean and presentable environment is crucial for any facility, whether it's an office, healthcare center, educational institution, or commercial space. The Rotowash floor cleaning machine stands as an innovative solution that brings numerous benefits to your building facility management strategy.
Time Efficiency: Traditional mopping and scrubbing methods are not only time-consuming but often fail to achieve the desired level of cleanliness. The Rotowash machine's advanced technology ensures quicker and more thorough cleaning, saving your staff valuable time.
Superior Cleaning Results: The machine's dual contra-rotating brushes agitate and lift dirt, grime, and stains from various floor surfaces. Whether it's hardwood, tiles, carpets, or vinyl, the Rotowash ensures consistently high-quality cleaning results.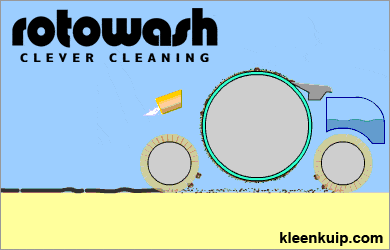 Cost Savings: By reducing the labor hours required for extensive floor cleaning, the Rotowash helps cut down on staffing costs. Moreover, its efficient water usage and cleaning solution distribution contribute to lower operating expenses.
Environmental Friendliness: The Rotowash uses minimal water and cleaning solutions, making it an eco-friendly alternative to traditional cleaning methods. This reduces water waste and the use of potentially harmful chemicals, promoting sustainability in your facility management practices.
Elevating Contract Cleaning Services
Contract cleaning companies face the ongoing challenge of delivering impeccable cleaning services to various clients while maintaining profitability. The Rotowash floor cleaning machine offers contract cleaning businesses a competitive edge:
Enhanced Productivity: The machine's design allows for swift movement across different floor surfaces, enabling contract cleaners to cover larger areas in less time. This not only boosts productivity but also allows for quicker turnovers in commercial spaces.
Consistent Quality: With its patented brush technology, the Rotowash ensures uniform cleaning across all surfaces. Clients can expect the same high level of cleanliness every time, enhancing customer satisfaction and loyalty.
Versatility: The Rotowash is adaptable to various cleaning tasks, from heavy-duty scrubbing to gentle polishing. This versatility means contract cleaners can tackle a wide range of flooring types without investing in multiple specialized machines.
Brand Reputation: Incorporating the Rotowash into your cleaning arsenal showcases your commitment to staying at the forefront of cleaning technology. This can attract clients who prioritize innovation and efficiency in their cleaning services.
Economical and efficient machines for your contract cleaning enterprise
In the fiercely competitive realm of facility management and contract cleaning, reputations are intricately tied to the consistent excellence delivered by cleaning and housekeeping teams. These teams tirelessly uphold high standards day in, day out. Cleaning, inherently strenuous, underscores the necessity for companies to prioritize staff well-being by equipping them with appropriate tools for the job.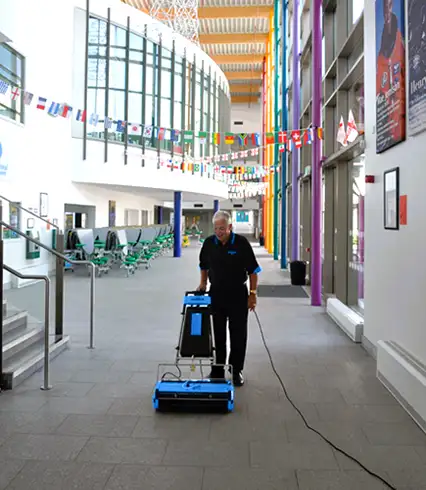 Given the capacity of Rotowash floor cleaning machines to amplify productivity while upholding quality, they constitute a pivotal facet of your cleaning solution. Furthermore, its remarkable adaptability essentially renders it a dual-purpose machine, offering exceptional cost-effectiveness. This, in turn, empowers you to furnish your clients with daily outcomes that are efficient, impactful, and of premium quality.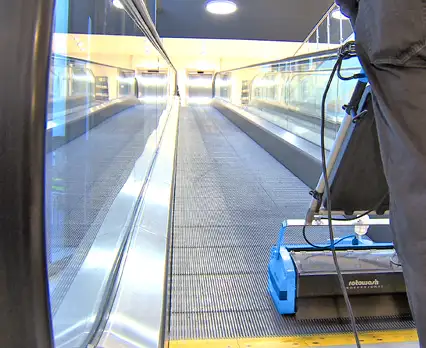 Step into the Future of Cleanliness
The Rotowash Floor Cleaning Machine is a game-changing tool that streamlines facility management and contract cleaning processes. Its ability to save time, improve cleaning results, and reduce costs make it a must-have for any organization looking to elevate their cleanliness standards. Embrace the power of innovation and transform the way you clean, maintain, and present your facilities!
Visit our showroom in Toronto for a Rotowash demonstration!
Our Address:
Kleen Kuip Supply Mart Inc.
11 Banigan Drive
Toronto, ON Canada
M4H1G3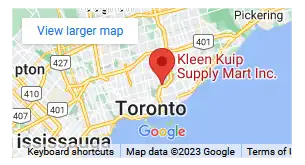 Phone: 416-429-0401 (Local Toronto)
Toll Free: 1-800-565-2574 (Out of Town)
Hours of operation:
8:30am to 4:30pm Monday to Friday
We have a full Service, Parts and Repair Shop
Click or Tap Here for More Information about The Rotowash Floor Cleaning Machine