Carpet Cleaning Pre Sprays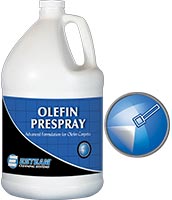 OLEFIN PRESPRAY
Olefin Prespray is a specially developed concentrated pre-conditioner for Olefin (polypropylene) carpets. This scientific blend of surfactants and grease lifters removes oily and particulate soils that attract to Olefin carpet fibres.
Diluted pH: 10.0
Dilution Ratio: 1:45
Available in: 4 L (1.06 US gal), 20 L (5.28 US gal) or 205 L (54.1 US gal)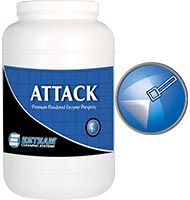 ATTACK
Attack is a high powered pre-conditioner which combines active enzymes, surfactants, softeners and grease lifters that will thoroughly clean a broad spectrum of fibres. Attack effectively removes animal, vegetable and petroleum oils, cooking and food residues, leaving traffic areas and heavily soiled carpet completely clean.
Diluted pH: 11.0
Dilution Ratio: 1:128
Available in: 8 lbs (3.6 kg), 50 lbs (22.6 kg) or 450 lbs (204 kg)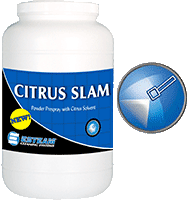 CITRUS SLAM
Citrus Slam is a high powered D-limonene infused prespray that breaks down soil & grease quickly and easily, delivering amazing results in a variety of applications. With the digestive action of enzymes Citrus Slam effectively removes animal, vegetable & petroleum oils. This product also excels on high traffic areas, leaving heavily soiled carpet completely clean.
Diluted pH: 12.0
Dilution Ratio: 1:64
Available in: 6.5 lbs (3 kg), 48 lbs (21.8 kg) or 430 lbs (195 kg)
Why Prespray & Rinse?
Carpet cleaning has become a highly technical and demanding field, and one central issue is the improvement of indoor air quality. This issue has led to an increase in demand for advanced cleaning compounds that reduce health concerns.
When cleaning agents remain in a carpet, they naturally attract more soil that a residue-free carpet. Most cleaning agents are mild to strong alkalis; the opposite of acids. These cleaning agents remove most acidic soils found in residential carpet, but can leave the carpet in an alkaline state. This alkaline state can contribute to a number of problems with the health and longevity of the carpet.
High alkalinity can contribute to organic growth, color loss, carpet browning, rapid resoiling, latex glue breakdown, fluorochemical protector failure, and a host of other problems. A carpet should be left in its original mildly acidic state to stabilize colors, reduce or eliminate browning, and leave the carpet softer and more resistant to acidic soiling.
How can you get the cleaning power you need while satisfying your customers demand for a healthier, residue-free carpet? Esteam recommends a two step prespray and rinse system. This system delivers maximum cleaning ability with maximum efficiency. And, a good prespray can reduce your cleaning time by 20 to 40 percent.
Simply apply and Esteam prespray to the entire carpet using an injection sprayer hooked up to your truckmount pressure system. Let it dwell for 10-15 minutes before extracting (raking in the prespray will greatly enhance the effectiveness of the chemical action) After the minimum dwell time, extract the carpet using fresh water with Esteam Fibre Rinse and allow it to dry. Your customers will find the carpet softer, fresher, and cleaner than with any other cleaning procedure.
Kleen Kuip follows and actively promotes the IICRC's Carpet Cleaning Standard
This process promotes cleaning for health and permits the professional cleaning technician to extract the maximum amount of pollutants from carpets while leaving the minimum of residue. This process includes dry soil removal, soil suspension, soil extraction, nap setting and drying.
Institute of Inspection Clenaing and Restoration Certification (IICRC) Homepage