P
ortable Hot Water Extractor
A Lightweight Professional Carpet & Upholstery Steam Cleaning Machine
Ideal for anyone who is setting up their own carpet & upholstery cleaning business. Easily fits into most vehicles and is easily moveable without breaking your back. Light and portable carpet cleaner for cars and small jobs, but also powerful enough to remove stubborn stains and caked-on grease and grime. The E-600 is the best portable carpet extractor.
A professional auto detailing upholstery cleaner machine is what you need to get tough spots and stains out of your customers vehicle interiors. Car detailing shops, car wash facilities, new and used car dealerships love the ease and durability of the E-600 carpet & upholstery cleaning machine. Cleaning floor mats, carpeted side panels and stubborn car seat spills and stains are a breeze!
What makes the E-600 heated carpet extractor for auto detailing?  Its deep cleaning ability is the most important consideration, but don't forget about durability and portability.  Because you will be moving the machine from job to job it should be relatively light and and made from brand name quality parts so that it can take the bumps and bruises you will undoubtedly give it over the years.
Optional 200°F Internal Heater to help improve the removal of stubborn stains and caked on dirt and grime.
The E600 is a professional strength steam extractor for car detailing that features high performance components in a compact, durable two tone polyethylene housing. Perfect for both carpet & upholstery cleaning and automotive detailing jobs. Remove grease, grime, spots, spills and stains quickly and effectively.
Designed for ease of transportation and storage, the E600 automotive carpet extractor has a fold down handle making it fit easily into almost any vehicle. A great portable carpet cleaner for a mobile car interior detailing business. From cars, trucks, vans, boats, recreational vehicles and motor homes this compact and easy to use carpet and upholstery cleaning machine can do it all! A pure profit machine for the mobile auto detailing business! $$$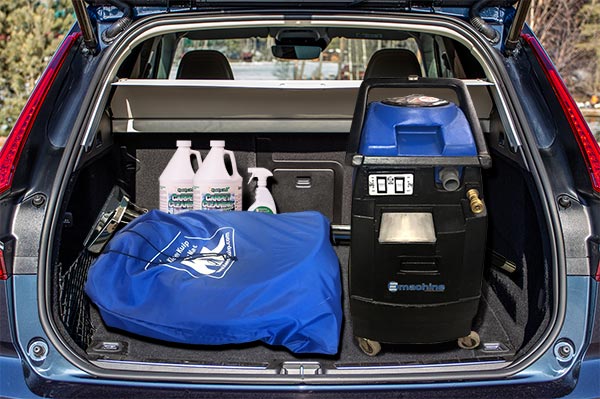 Great for cleaning carpet & upholstery and mobile car interior detailing. We also stock a wide assortment of auto detailing tools and cleaning supplies.
The e-600's compact and user-friendly design allows for easy maneuverability, making it ideal for both residential and commercial use. Its quick drying capabilities ensure minimal downtime, allowing carpets to be back in use quickly. With the e-600 carpet cleaning machine, you can achieve professional-grade cleaning without the hassle, delivering fresh and spotless carpets every time.
| Model | E600 | E600-10 |
| --- | --- | --- |
| Pump | 150 PSI | 150 PSI |
| Vacuum Motors | 1-3 Stage | 1-3 Stage |
| CFM'S | 94 | 94 |
| Water Lift | 125″ | 125″ |
| Internal Heater | N/A | 1850 Watt / 200°F |
| Electrical | One Cord | 2 Cords |
| Amps | 15 Amps | 15 Amps Per Cord |
| Weight | 60 lbs (27 kgs) | 62 lbs (28 kgs) |
Pump:
150 PSI Diaphragm Demand Pump (Viton Seals)
Vacuum
3-Stage (125″ Water Lift)
Dimensions:
H: 28″ W: 15″ L: 20″ (Handle Down)
Features:
Two tone Rotomolded Polyethylene Housing
22 L (6 Gallon) Solution Tank
22 L (6 Gallon) Recovery Tank
25′ Power Cord
Limited Lifetime Warranty on Housing
1 Year Warranty on Components
90 Day Labor Warranty
Weight: 60-62 Lbs.(27-28 kgs)
CSA-US Approved
Optional 200°F Internal Heater to quickly break up grease and dirt in the auto detailing industry.

Lease or Financing Available
We also stock a wide selection of specialty cleaning chemicals, carpet cleaning wands, upholstery tools and accessories. Call or visit us today!