THE Source for Professional Carpet Cleaning Equipment & Water/Fire Damage Restoration Supplies Toronto Canada (416)429-0401
Canada's largest carpet cleaning equipment supplier. Kleen Kuip Supply Mart Incorporated is your Professional Carpet Cleaning Equipment, Floor/Fire Restoration and Supply Specialist. We offer top of the line New and Used Portable and Truckmounted Carpet Steam Cleaning Machines from Esteam Ninja, EDIC, Cleanco, and Hydramaster. We also rent professional water & fire damage restoration equipment and have a full parts and repair service department. If you are interested in becoming a Professional Carpet Cleaner/your own boss we can provide you with free experienced training and sales techniques to help get you started if you purchase equipment from us. Be sure to check out our new Portable Carpet Cleaning Machines website. Looking for automotive car detailing machines? Be sure to check out our new Rotowash Carpet and Floor Cleaning Machine site!



"We have the solutions because we understand your needs"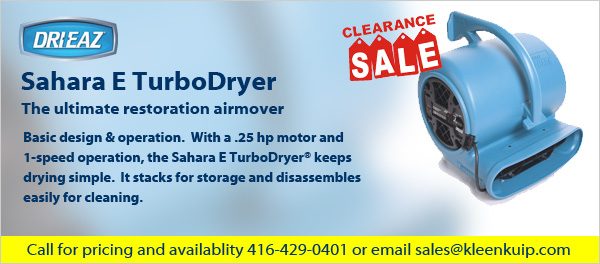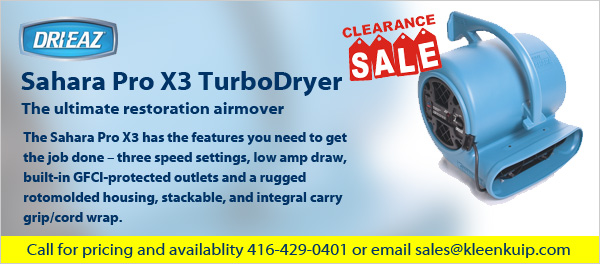 The Most Versatile Floor Cleaning Machine - Rotowash
In the news:
SALE on Oreck Sweep-N-Go NEW 20% OFF!
Click Here

Rotovac Bonzer
High Speed Carpet Cleaning in Both Directions...With Ease! The Rotovac Bonzer speed cleans carpet by capturing and delivering all the power your truckmount/portable machine can generate.
---

Tile and Grout Cleaning Tools
All of the tools needed to make you and your business a tile and grout cleaning champion.
---
Rotowash Multi-Floor Cleaning Machine
One Rotowash machine effectively cleans multiple floor types including profiled, anti-slip, carpet, anti-slip vinyl, slate, resin, studded rubber, flotex, ceramic tiles and more.
---

Formula KK Salt Reducer
Donít let ice melt chemicals dull your beautiful floors and carpets. Formula KK is an original formula that restores beauty to floors and carpets by removing the white film left by ice melting chemicals at building and storefront entrance ways. Demineralizes salt deposits. Reduces slip hazards. Floor finishes and carpeting last longer.
---
We are located at 11 Banigan Drive in Toronto Ont. Canada. Pay us a visit and check out our vast and unique showroom. Kleen Kuip is Canada's Largest Distributor of Ninja Portable Carpet Cleaning Machines (the best in the business) and Proud of it!
There's always something

at Kleen Kuip, so enjoy your visit and be sure to bookmark this site and return often for updates.
Ninja Steam Cleaning Carpet Cleaning Chemcials Extractor Shampooer - Esteam - Supplier - Chemspec - Hydroxyl - Ozone Generators - HEPA Air Scrubbers - Flood Rental Equipment - Fire and Water Damage Restoration - Wands - PowerClean - Dri-Eaz - Steamin Demon - Orbitech - Centaur - Benefect - Auto Detailing - Clean Quip - Janitorial Supplies - Pump Repair - Orbot - Marble Polishing - Discussion Forum - Eliminate Odours - Grout Tile Tools - Unsmoke - I.I.C.R.C. - Cleanco - Century - Core - Hydramaster - Oreck - U.S. Products - Rotovac - Cimex - Tru-Vox - EDIC -Bulk Chemicals - Bonnet - Low Moisture VLM - Spin Pads - Power Clean - Air Purifiers - New & Used Professional Commercial Industrial Carpet Cleaning Rental Business Machines - Auto Detailing Machines Tools Equipment Supplies Toronto