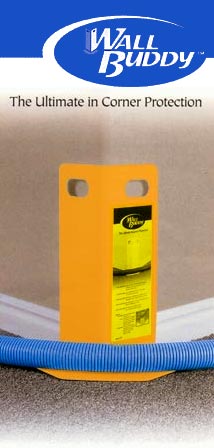 Important:
To get the best protection, our research indicates the use of three Wall Buddy's per technician or truck for smaller jobs. Additional Wall Buddy's may be needed for larger jobs. The Wall Buddy can be taken from job to job and will last for years.
Wall Buddy Corner Guard- The Ultimate Solution in Corner Protection
Protect Your Customer's Home, and Your Reputation.
Corner Guards protect your customer's wall corners and prevents costly claims. Keeps hoses from damaging paint or wall coverings as they go around corners. Three are enough for most residential jobs. Made of unbreakable, lightweight, non-marking plastic.
The Wall Buddy can be used in the Carpet Cleaning Industry, as well as Janitorial, and Painting Industries.
The Wall Buddy protects all of the Corners of the walls and Furniture on your job.
The Wall Buddy portrays a professional image which reassures your customer that you care.
The Wall Buddy protects against costly insurance claims due to damaged corners or walls.
The Wall Buddy is made from a light weight non-marking durable plastic.
The Wall Buddy can be sold to your customers who have central vacuum systems.